About Us
Like no other real estate company, Exclusive Listing gives our clients an income stream through production filming, photo shoots and special events. Our sister company Image Locations, Inc., is the largest most successful location agency in the entertainment industry.With a full in-house marketing team including photographers, graphic designers, videographers, drone operators, and a professional copywriter, each home and every client will have the full dedication of our entire creative staff.Our real estate agents are multi-lingual, experienced and diverse. Our pride is in our teamwork as we work together to communicate and provide a high touch luxury service. When selling with us, a home will be seen first by our network of A-list clients of high net worth individuals, directors, cinematographers, celebrities and producers.
With offices throughout Greater Los Angeles and Asia, Exclusive Listing bridges the gap across the globe. Not only brokering real estate, but also providing high touch affiliates to service every aspect of an international transaction.
When selling your home off-MLS we value your privacy; to be truly discreet. Private Listings is our way to market off-MLS homes for sale to qualified buyers and their representatives. Private Homes for Private Buyers.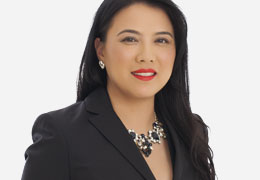 Alex Tieu, President
Alexandra Tieu is the Chief Operating Officer of Exclusive Listing, an Image Locations company.
Alex oversees the strategic direction of the Los Angeles based real estate brokerage. As the previous Operating Partner of the Keller Williams downtown Los Angeles and TL for the Glendale branch, she has managed over 400 real estate agents, 1700 transactions, and oversaw a total sales volume of $850 million. Her expertise in the Real Estate industry contributes to Exclusive Listing's prosperity and ability to implement innovative strategies, setting them apart from any other real estate brokerage in the world.
Aside from her real estate experience, Alex joined forces with her husband as the Director of Business Development and Co-Founder of Jaurigue Law Group. Building the company from the ground up, she assisted in the development of the law firm where they eventually expanded JLG's services to a full-service consumer and business firm. Now a renown firm, their continued growth and increasing demand lead them to open multiple locations in San Jose, San Francisco, and Glendale, California to service millions of dollars in litigation.
Alex studied Communications at Santa Clara University. Earlier in her professional career she held a staff position in the White House which lead her to fulfill a leadership position within the Democratic party. She exited her political career as a congressional aide.
Alex is the proud mother of 3 beautiful daughters and wife to loving husband Michael Jaurigue.
Paul K. Kim, CEO
A native Angeleno, Paul started in the location service business in 1995. As the founder and CEO of Image Locations, Inc., he has over the years, earned loyalty and respect from his clients with an unwavering commitment to excellence and integrity. Initially specializing in photography, his company found considerable demand to expand into commercials, television, and feature films. Image Locations continues to work with notable clients including CBS, Showtime, Bravo, NBC, Warner Brothers, Vogue, Harper's Bazaar and GQ.
Paul takes pride in employing a diverse and highly creative staff. For several years running, Image Locations has been included on Inc.com's prestigious list of the 5000 fastest-growing private companies in America. A 2010 Bloomberg.com profile on Paul highlighted Image Location's forward-thinking marketing strategy. As Image Locations' upward momentum continues, Paul remains dedicated to the strategic growth of Exclusive Listing.