Our latest listing at 1225 Westchester Place is a large ±3,862 sq.ft 5 bedroom, 4 bathroom home in Hancock Park/Mid-Wilshire. It was designed in 1952 by famed architect Paul Revere Williams for his friend–grandfather of the home's current owner. It has since been lovingly remodeled and restored; respecting the architect's original vision.
Paul Williams was instrumental in not only shaping the look of Los Angeles, but for creating many innovations such as "patios as an extension of the house and hidden, retractable screens." as revealed in an NPR feature on the architect. Now considered standard, these innovations were revolutionary in his time. His expertise and unique vision resulted in thousands of commissions for his firm.
A native Angeleno , Paul Williams was orphaned at an early age. He showed exceptional intellect as a child and went on to study at the Los Angeles School of Art and Design. He then graduated from USC's School of Engineering becoming a certified architect in 1921. After opening up his own private practice in 1922, he rose to become a go-to architect around Hollywood; especially during the 1940s and 50s.
However, Williams designed homes in areas where he himself was restricted from living. As an African-American, (the first to join the AIA, American Institute of Architects), he worked at a time when his Civil Rights were severely restricted. Despite the prejudice he encountered, he became known for his singular vision, for his ability to make grand homes feel cozy, his attention to detail, and his draftsman skills
Among his many notable works are homes for Lucille Ball and Desi Arnaz, Tyrone Power and Frank Sinatra. He was part of the design teams for LAX and the Los Angeles Courthouse and was instrumental in design changes for the Beverly Hills Hotel:creating the pink/green color scheme and redesigning the Polo Lounge among other spaces in the hotel.
First Impressions
It is a treat when a Williams home comes on the market. To have one of his homes come up in a diverse, family and film-friendly neighborhood; a home that has stayed in one family for over sixty years– is even more special. 1225 Westchester Place is a living piece of history with a design that has stood he test of time.
The one-story Americana/Tudor style home is situated on .41 acres. A double entry U-shaped brick driveway provides access to a two car garage and loading to a service porch/laundry area as well as providing for additional off-street parking. The exterior of the home makes for a charming first impression: geometric peaks of the roof punctuate the sky, softened by the surrounding mature trees and well-tended lawn.
Living Room/Foyer
Upon entering, you are struck by how open the home is, yet, at the same time, warm and inviting; one of the design signatures of the architect. The front door faces east. Marked by a custom medallion, the foyer opens onto the living room, accessed when four white louvered doors are folded back. A varnished wood and black marble fireplace, anchors the room and is one of two original wood-burning fireplaces in the home. Stepping through custom 12′ sliding French doors leads you into the expansive outdoor patio and garden.
Outdoors
For parties, for lounging, for the gardener…the lushly landscaped backyard is a retreat plumbed with detail: timed watering ports for potted plants on the brick patio, a 12 foot high pergola with vibrant bougainvillea plants and 12-zoomed timed sprinkler system. The showpiece is a 22 foot granite and stainless steel yard kitchen. A maintenance yard houses swimming pool equipment, two air-conditioning systems (providing for separate cooling for living/entertainment rooms and bedrooms) and an emergency backup generator. A 36x 18 kidney-shaped swimming pool sparkles at the yard center. Across from the open-air kitchen is a 17'x36′ pool house which can be used as an office or guest house.
Bedrooms and Bathrooms
Bedrooms are filled with light and provide ample space for a family, extended family or visiting guests. The master bedroom is renovated to include a sunken spa tub, custom closets and a skylight.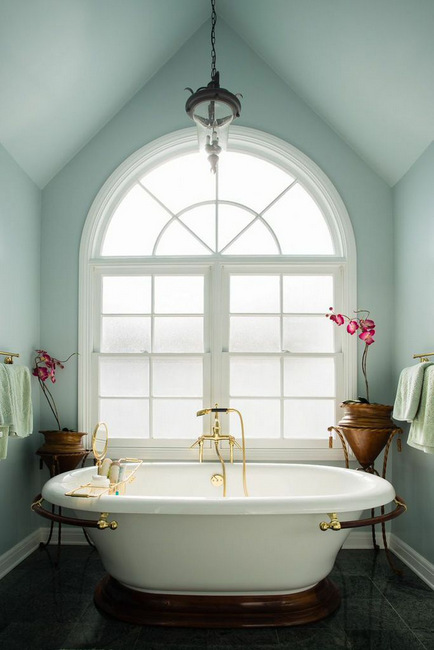 A Paul Williams Signature
From the right of the front door, heading north, you will find a family/media room with and an original wood burning, brick-framed gas fireplace. Prewired for 10.2 audio surround sound, the room has a signature Paul Williams design feature: a soffit , curving around the room. A similar one can be found at the Beverly Hills hotel in the Paul Williams suite. The soffit, with recessed lighting, has a dimmer-controlled rope and down lights. Two sets of powered blackout roller shades frame a 12′ window and French doors. Combined, these features amount to a premium home movie theater experience.
Elegant Dining
Across the hallway from the media room, leading to the kitchen, is an elegant formal dining room. Light streams in through a a leaded glass bay window adding a regal feeling to the warm space. A stunning Schonbek Trilliane crystal chandelier graces the ceiling. Pocket doors lead out to the hallway, while a delightful Rickson swing door leads into the kitchen.
The Heart of the Home
From the dining room, you step into a large, chef's kitchen; the heart of the home. Blue "Angel Eye" granite countertops have an 18″ backsplash. Custom wooden cabinets have pull out drawer shelving; there is a tremendous amounts of storage and pantry space. A trio of hanging pendant lamps, down lights, under cabinet lighting and dimmer systems provide ample lighting options. The appliances are fit for a professional chef: a SubZero refrigerator/freezer, Wolf 48″ range with four burners, dual ovens, and a grill and griddle. A cozy breakfast nook with windows looking out onto the front yard sits across from the range. The kitchen leads to one of the bedrooms, a bathroom and a laundry room.
Throughout the home are beautiful hardwood flooring and crown molding. A tri-level alarm system with motion detectors, hardwire to the perimeter and armed screens offers peace of mind.
Turning the Page
In a documentary on her late grandfather, Karen E. Williams, said Paul R. Williams was a family man: he never brought work home, cherished his wife and relished time with his grandchildren. He was no less dedicated to his body of work as his homes have proven timeless and are highly sought after.
The current homeowner would love to continue the architects' legacy by opening up a new chapter– finding a family who will enjoy the beauty of the home, appreciate the history; who will make memories in 1225 Westchester Place…just as her family has for over 60 years.
1225 Westchester Place, in the Hancock Park/Mid-Wilshire area is offered at $2,000,000. Please contact James Kim at 310-955-8755 for more information or email expert@exclusivelisting.com